Here's to Monday! Here's to a new day! Here's to the week of Christmas! Embrace life & love all those around you!
This is an opportunity for everyone to meet new people and make friends. Feel free to grab my cute little button for my Monday blog hop and be sure to share your link below. Wishing you a beautiful holiday week, stress free and wonderful!
xoxo - Katie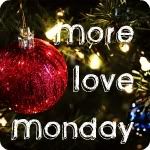 As always I love to pick a blog to show off to all of you that I truly enjoy visiting everyday. I hope that you'll stop bye and say hello to my dear friend!