I wanted to celebrate my new blog design! By doing this I felt a little gift to
Love is Everywhere
is in order. I have decided to spotlight 2 blogs each week. You'll see on the right sidebar of my blog (I also put a picture below) there is a cute little icon which reads '
Blogs of the Week
'. I will share the 2 blogs right below that icon. For those who are picked, I will contact you each week letting you know ♥
This gives your fabulous blog recognition ♥ It's fun and it allows us all to continue
spreading the love
and making new friends!
Also, there is this additional button you can grab if you are Blog of the Week! :)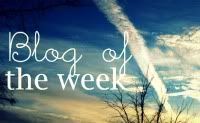 Since I like to do things a little backwards the Blogs of the Week will be from Wednesday-Tuesday. ♥ Congratulations to my sweet friends who are starting the kickoff of this new fabulous feature!