Happy February 1st!
I had a fabulous time with this Guest Post and wanted to share it with all of you. Carrie over at
Carrie With Children
started a new feature called 'Tuesday Traveler'. She looks for anyone who would like, to share their favorite vacation spot, their hometown or just a place that they feel others would enjoy reading about. I happened to choose our family vacation spot in Old Orchard Beach, ME. If you have a few moments please swing bye Carrie's page to read the post and see the pictures I included. While you're there, take a peak around because you'll like what you see on her lovely blog.. I promise! ♥
I would also like to thank everyone from the bottom of my heart who had voted for 'Love is Everywhere' at For The Love of Blogs. We have made Blog of the Month. This is truly an amazing honor and I could not be happier!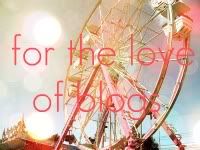 Love you all & I will be writing out my 29 Days of Gifts: Day 1 in a bit.♥
Katie